For the most part, the vast majority of pharmaceuticals available in USA are also distributed in Canada. However, Canada is a notably smaller market and there are some drugs you won't find above the border.  
Here are 5 key differences between Canada and US:
1. Zirgan (ganciclovir ophthalmic gel) 0.15% for HSK
Bausch and Lomb does not currently have any plans to bring Zirgan to Canada. The only other topical agent, Viroptic (trifluridine 1%) is on backorder and will be discontinued. For your Simplex dendrites, oral antivirals are your best bet.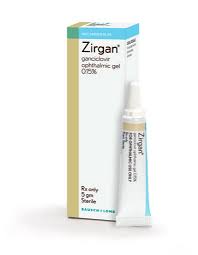 2. Antibiotic Drops
Zylet (loteprednol 0.5%/tobramycin 0.3% susp.) comes in handy when you have a chronic inflammatory condition that needs bacterial coverage, but it is exclusive to the States. Your only option is to use Tobradex (0.1% dexamethasone/0.3% tobramycin). Tobradex ST, which has half the concentration of dexamethasone is not available in Canada
Azasite (1% azithromycin oph sol) is only available in the US. However, this is a potent option for bacterial conjunctivitis (BID x 2 days, QD x 5 days). It has also shown anti-inflammatory properties and may help with MGD. 
3. Glaucoma Combo Drops
Xalcom (latanoprost 0.005%/0.5% timolol maleate), dosed QD
Duotrav (travoprost 0.004%/0.5% timolol maleate), dosed QD
This is one of the rare categories where drugs in Canada are not available in the USA! In Canada, we have access to a few prostanoid-beta blocker combo drops not available in America when a single prostanoid agent is not enough
4. Anti-Allergy Drops
Mast Cell Stabilizer/Anti-Histamine drops have been our go-to to treat allergy-related ocular itching. In Canada, they are available as Rx only. Patanol/Pataday/Pazeo (olopatadine 0.1/0.2%/0.7%) have long been approved. Bepreve (bepotastine 1.5%) is a recent entrant to the Canadian market, as is Zaditor (ketotifen 0.035%), both Rx only. 
Other common dual agents are only available in the US: Alaway (ketotifen 0.035%), Elestate (epinastine 0.05%), Emadine (emadistine 0.05%) and Optivar (azelastine 0.05%). 
Lastacaft (alcaftadine 0.25%), dosed QD, is the only pregnancy category B agent, but is US only. 
5. Oral Medications
In Canada, most provinces permit prescribing of oral antibiotics and antivirals. Oral carbonic anhydrase inhibitors (CAIs) can be prescribed in emergency situations (BC, AB, MB, ON, NB).
However, the prescribing of oral steroids and narcotics are NOT permitted in Canada.
For details on what you can prescribe by province, check out our TPA Authority Map: